St Ouen Store
Shop, donate or volunteer and help us deliver personalised care today.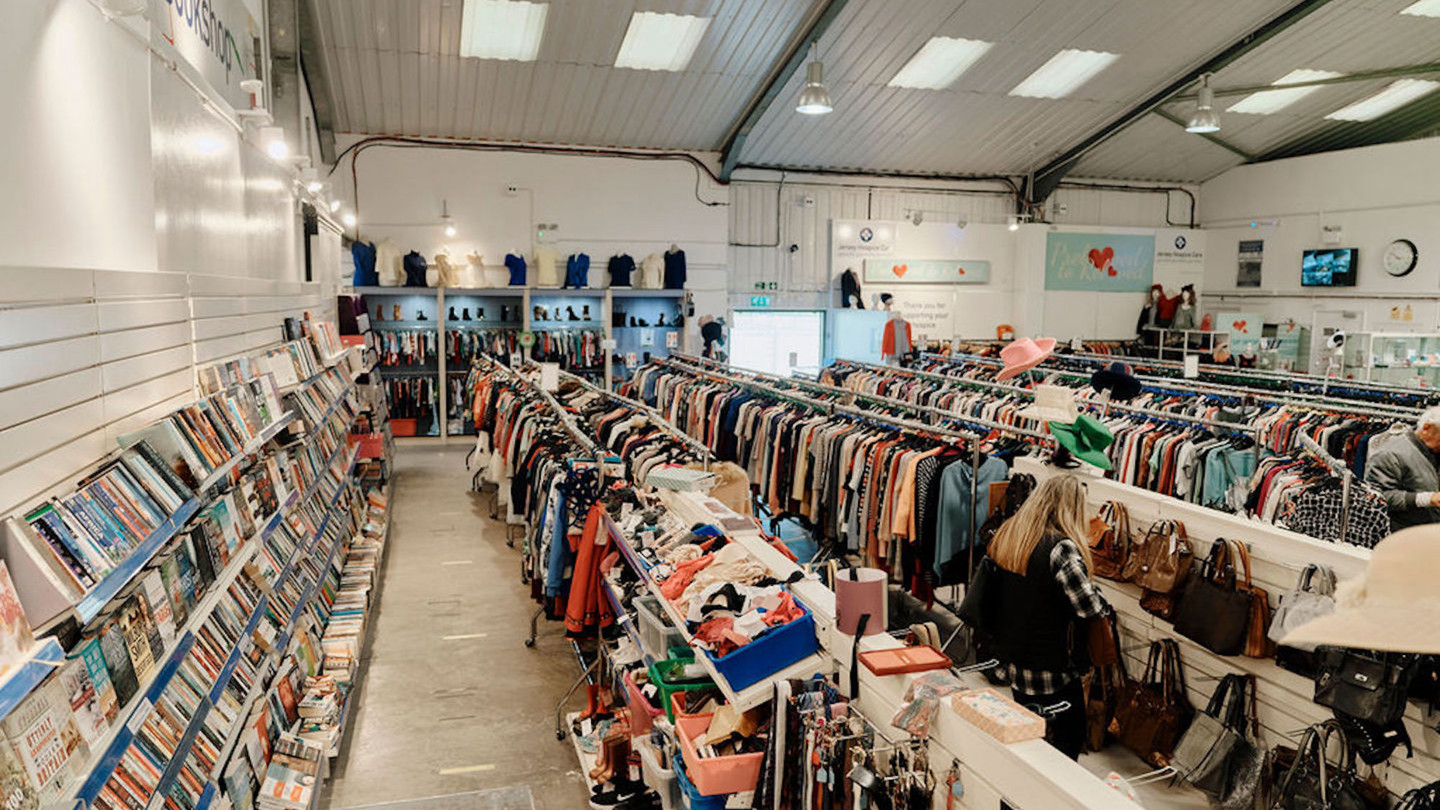 Our Beau Pre Fundraising store is open Monday - Saturday, 10:00 - 16:00.
Donations are accepted Monday - Saturday between 08:30 and 15:30.
At our St Ouen store you will find:
A large range of clothing, jewellery, shoes and accessories
Books, household items, textiles and furniture
'Preloved to Reloved' - a range of new and nearly new items from designer and luxury brands
What we can sell
If you would like to donate good quality items, the following are always welcome:
Antiques
Art
Books
Bridal wear
Clothes
Designer and branded wear
Disability equipment (e.g. Wheelchairs)
DVD and CD
Electrical appliances that are working
Furniture items
Household items
Mattress - must be clean and good condition
Mobile phones - to recycle
Porcelain
Puzzles
Shoes
Sports Equipment
Toys
Unopened gift sets
Follow us
Visit our Facebook or Instagram page for live updates of some of our valuable or more unusual items for sale.
What we can't sell
We regret we are unable to accept the following items for sale at our shops:
Baby car seats
Crash helmets and riding hats
Dishwashers
Electric Dryers
Electric/ Gas Cookers and Ovens
Explosives - including fireworks
Food or drink
Gas and Oil appliances
Hobs
Household / Garden Waste
Knives, firearms (including replicas)
Medical equipment and medicines
Microwaves
Nursery Furniture , including prams, pushchairs, high chairs, cots, moses baskets and baby mattresses
Opened Cosmetics
Pornography
Sharps: Darts, needles, scissors, swords and spears
Video Cassette tapes
Washing Machines
Donating furniture?
Did you know we offer a free collection service? It can be arranged by calling (01534) 487982. Please give us as much notice as possible.
If you would like us to deliver a purchase to you, we can do so for a £25 fee.
Find Us
Our St Ouen shop is located at Beau Pre Farm, Rue de la Croix, JE3 2DR
Where your donation goes
Our mission is to honour the fundraising potential of each donation so that we can consistently offer good value items to our customers and, ultimately, raise as much money as possible to help enable outstanding personalised care for our patients.
Even if an item does not sell in our shops, we can still make money from it by selling it online or sending it to be recycled (clothing only).
Dropping off donations?
St Helier Store has limited space for donations. If you are able to, we would prefer you to drop donations to our centralised sorting at our St Ouen store. Donations are accepted between 08:30 and 15:30 Monday - Saturday.
St Ouen Store
Every donation or item purchased makes a difference in supporting our patients to get the personalised care they need.
Preloved to Reloved
The Preloved to Reloved range has a permanent area in the St Ouen Store where you can browse a selection of designer and luxury items Monday - Saturday from 10:00 - 16:00.
We also hold regular 'Pop up events' where we offer customers the opportunity to purchase designer and luxury brands at fantastic value prices! Keep an eye on our social media pages for upcoming dates.