Tap to Give
Supporting Jersey Hospice Care through contactless giving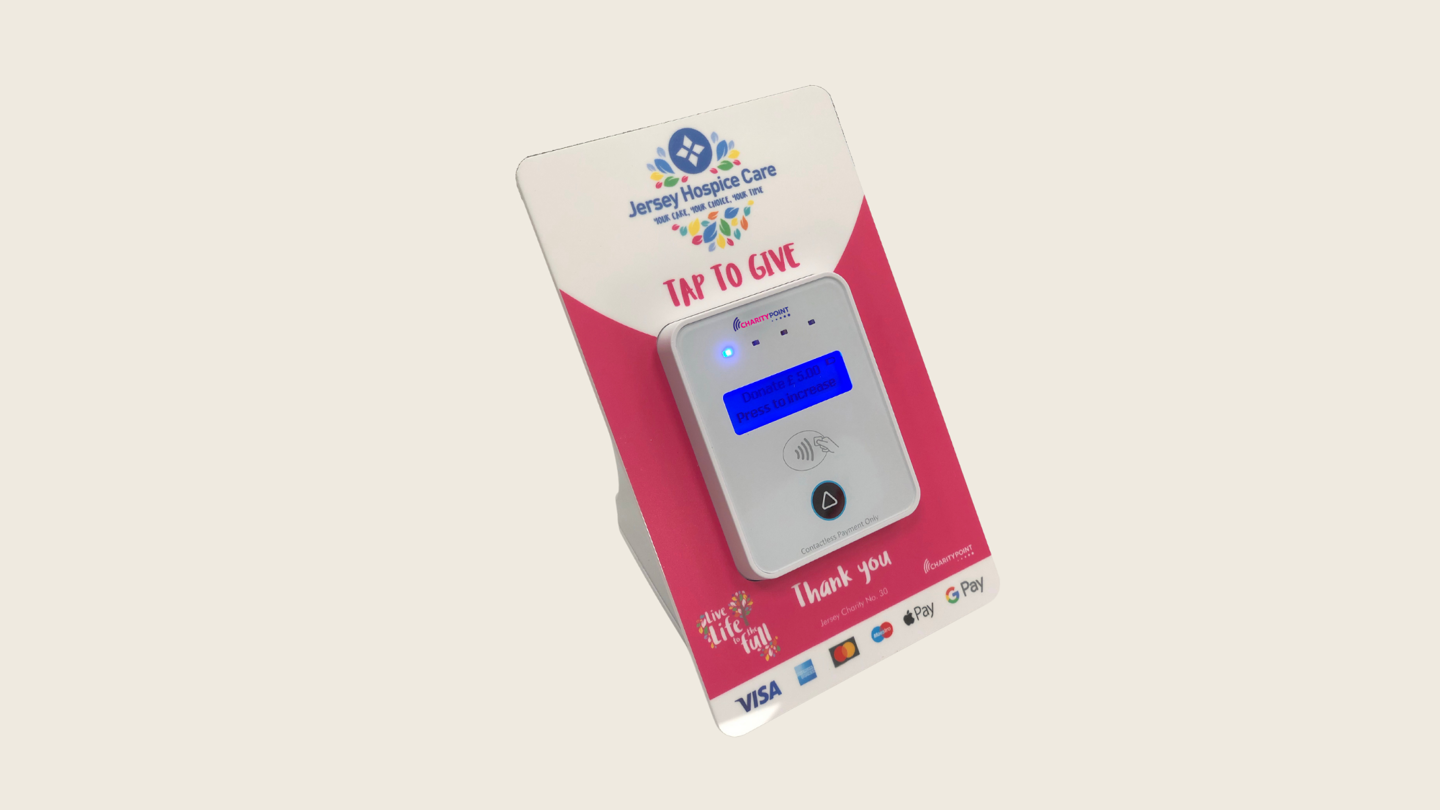 The Tap to Give donation boxes allow people to make a donation to Hospice quickly and easily at one of our partner locations
They are very easy to use – if you would like to make a donation, simply select the amount and then hold your contactless card or device to the front of the box. All major cards are accepted, as well as Apple Pay and Google Pay.
If you are interested in becoming a partner in this new and exciting initiative, here is what you need to know in advance:
The donation boxes include a small contactless card reader sat on a free-standing box, which can sit on a counter top, be mounted on a wall or in a window, or be supplied with a floor stand.

The boxes connect to our payment provider via GPRS so you can simply plug them in and they are ready to go.

We will provide the contactless donation box at no cost to you and we just ask that you display it somewhere prominent.

The box itself is 13 cm x 11 cm x 15 cm, so it will not take up much more space than our usual collection tins.

It will need to be plugged in to the mains and comes with a cable.

We will programme the machine so that all you will need to do is turn it on and encourage your customers to tap!

Support from our team is available from 09:00 to 17:00 every working day.

If you would like to sponsor the cost of your donation box(es), we can arrange for your company logo to be shown.
Would you like to partner with us and hold our contactless donation boxes?
If you would like to find out more, please contact our Income Generation team by emailing fundraising@jerseyhospicecare.com or calling 901534) 876555.
The units are supplied by Charge Point, a Jersey company with a passion for helping everyone embrace the potential of new technology.